Minolta's XE-1 was introduced in 1975, it was one of Minolta's first electronic exposure cameras, although it does have a couple of mechanical shutter release settings for when the batteries die at 'X' and 'B'.
Its a heavy (775 grams w/out lens) very solid, well built camera made at the time when Minolta and Leica were in collaboration, the Leica R3 is reportedly a very similar camera.
The XE-1 has many features to keep photographers happy! Aperture priority automatic or manual exposure, a vertical running metal shutter (4 sec - 1/1000), full info viewfinder with aperture and shutter info along with needle showing metered shutter speed, a lockable depth of field preview button, multiple exposure lever, viewfinder blind, film load indicator, battery test lamp, on/off switch which locks the shutter button.
Fun with this camera.
Quite a few issues! firstly it looked as though the camera had been stored somewhere damp, the base plate screws where rusted in and therefore a new bigger handled screwdriver set was purchased to remove them!
On/Off switch was very stiff, removed top undoing switch in the process cleaned an lightly lubed the switch parts including a ball bearing that fell out and nearly escaped!
The multi exposure was staying on and the film wouldn't advance, all this needed was to clean and lube a lever under base plate.
Lastly just a couple of cosmetic issues, the viewfinder has a black line/mess across bottom when you look through it, it appears that the silvering has come off where the prism was glued in, so I need a another prism. If you notice in the camera photos the winding lever has lost its plastic tip. Anybody out there got parts or a camera to help with these problems, please feel free to email me (link at bottom of page).
Camera Specs. From Manual
Type: 35mm Single-lens reflex with automatic and metered/full-manual exposure control.
Lens Mount: Minolta SLR bayonet, 54 deg rotating angle; coupling for full-aperture metering and automatic diaphragm control with MC Rokkor lenses (MD also).
Standard Lenses: MC Rokkor 50mm f/1.7, 50mm f/1.4 (pictured above), or 58mm f/1.2.
Auto Exposure Range: EV 1 to EV 17.
Shutter: Vertical-traverse metal blade focal plane type; electronically controlled speeds: 1/1000 to 4 sec. Steplessly on automatic mode or in steps on manual mode.
Mechanically controlled settings (no battery required): "X" (1/90sec), "B".
Light Metering: Full-aperture TTL type with overlapping readings taken by 2 CdS cells mounted on the pentaprism; stop-down metering also possible.
Film speed index: ASA 12- 3200.
Viewfinder: Eye-level fixed pentaprism type showing 94% of 24 x 36mm film-frame area.
Matt-Fresnel-field focusing screen with central horizontally oriented split-image focusing spot surrounded by mircoprism band.
Flash Synchronization: Threaded PC terminal an hot shoe with switch for X or FP delay;
X contact for electronic flash, synchronizes at "X" (1/90 sec) and lower speeds.
FP contact: FP flashbulbs synchronize at all settings.
Self Timer: Lever type settings from approx. 6 to 10 sec.
Film Loading: 4 slotted take-up spool.
Film Winding: Single operation 130 degree winding lever type. Safe load signal indicates film loading and advancing condition.
Multiple-exposure lever coaxial with advance lever allows unlimited recocking of the shutter without advancing the film.
Advancing-type frame counter resets automatically when camera back opened. (No advance with multiple exposure)
Power: Two 1.5v silver-oxide cells (S-76 or equivalent) power both auto exposure control and shutter's electronically governed operation;
Battery checker on end of body.
Mirror stays up (no exposure made) as warning when voltage too low for electronic operation.
Size: W 148 mm x H 97 mm x W 61 mm.
Weight: 775 grams without lens.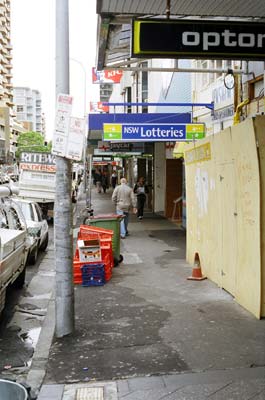 No more cosmo sign!!