The Olympus XA was manufactured in 1979. Its a great rangefinder focusing compact camera, with a sliding lens cover that makes it very pocketable. Fun and easy to use, simple aperture priority settings. It runs on two S76 batteries which are still available! not like loads of other older cameras which need discontinued batteries. It also has a small detachable flash unit that fixes on the side.
Fun with this camera.
Worked fine for a couple of weeks then the shutter wouldn't fire. Turned out to be magnetic catch/switch was a bit sticky and needed a clean, major surgery! was required. All good now!!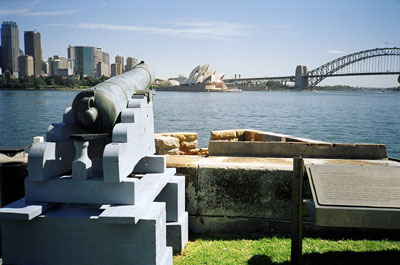 From Fort Dennison in Sydney harbour
Camera Specs:
Lens: 35mm f2.8 - 22, 6 elements in 5 groups.
Shutter: Shutter speeds 10 sec - 1/500 Auto exposure.
Exposure Meter: Cds meter powered by two S76 1.5v silver batteries.
Exposure Control: EE metered Aperture priority automatic exposure. Backlighting compensation +1.5EV lever on bottom of camera.
Film Speed Index: ASA 25-800
Viewfinder: Double image superimposed coupled rangefinder, with parallax correction marks. Shutter speed readout needle on left of viewfinder, with over exposure indicator.
Flash Synchronization: Only possible with flash unit specifically made for camera attaches to end of camera via thumb screw.
Self-timer: Built-in, lever on camera bottom.
Film Loading: Normal slotted take-up spool.
Film Winding: rear winding thumb wheel.
Size: 102mm (W)x 64.5mm (H) x 40mm (D)
Weight: 225 grams W/O batteries.