Minolta's first autofocus camera the maxxum 7000 is fun and easy to use. It has shutter/aperture priority, manual or program exposure modes, TTL flash metering, and powered auto film winding in either single shot or continuous up to 2 frames per second.

Fun with this camera.
Only a quick clean.

Camera Specs. From manual
Type: 35mm SLR with microcomputer control of autofocus, auto multi-program, and auto film transport.
Power: Four AAA size 1.5v alkaline batteries power all operations. Has built in lithium cell for memory back-up
Lens Mount: Minolta "A" type Maxxum AF bayonet.
Shutter: Electronically controlled vertically running focal plane type. 1/2000 to 30 sec & B in full stops using manual mode.
Exposure modes:
Program: Both shutter and aperture set according to AE program automatically selected by camera. Either wide, standard or tele programs depending on lens attached. Program changes automatically when zooming from one range to another.
A: Aperture priority AE, any available aperture selectable in half stops, the camera sets corresponding step less shutter speed from 1/2000 to 30 sec.
S: Shutter priority AE, any speed from 1/2000 to 30 sec selectable in full stops, camera sets aperture from range available on lens.
M: Metered manual exposure, manual setting of any speed and aperture, correct exposure indicated in viewfinder.
Exposure controls: Exposure adjustment EV +4 to -4 in half stops; AE lock holds metered AE settings; Program shift for temporary selection of other programmed aperture-shutter speed setting, shifted settings held as long as meter stays on.
Film speed index: Auto DX Setting. ISO 25 - 6400 in ambient light or ISO 25 - 1000 for TTL flash metering.
Viewfinder: Eye-level fixed pentaprism shows 94% of 24 x 36mm film frame area.
LCD's indicate exposure mode, shutter speed, aperture, exposure adjustment, film speed, low battery warning, whether light is within metering range, over/under exposure warning.
LED's indicate focus status, if flash is charged, correct flash exposure.
Display is illuminated automatically in low light.
Flash: TTL flash metering in all flash modes with dedicated units. 1/100 flash X-sync.
Self timer: Electronic with 10 second delay, flashing LED, beeping and countdown in LCD display.
Film Loading: Auto threading and auto advance to first frame.
Size: W 138mm x H 91.5mm x D 52mm.
Weight: 555 grams without lens or batteries..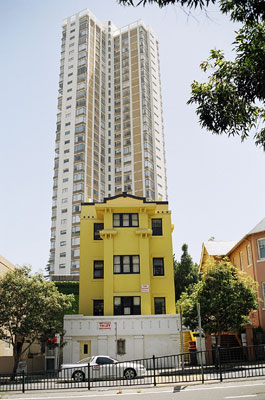 Buildings in edgecliff