Manufactured in the Ukraine from 1961-1963. This camera has interchangeable screw mounted lens, known as leica screw (or thread) mount, LTM for short.
Fun with this camera.
No probelms it works fine.
Camera Specs:
Lens: Industar 26M, 50mm f2.8 - 22, Filter size 40.5mm
Shutter: Shutter speeds 1/30 - 1/500 & B
Exposure Meter: None
Exposure Control: Manual setting, shutter speed/aperture
Film Speed Index: Has weird Russian reminder numbers and symbols??
Viewfinder: Small, double image super-imposing coupled rangefinder. With Diopter adjustment around back window.
Flash Synchronization: PC socket.
Self-timer: Built-in, lever type with trigger above.
Film Loading: Removable back/bottom (one piece)! special cut leader to be fed into removable take up spool (don't loose to spool, it falls out)
Film Winding: Winding knob.
Size: 140mm W x 80mm H x 75mm W
Weight: 700 grams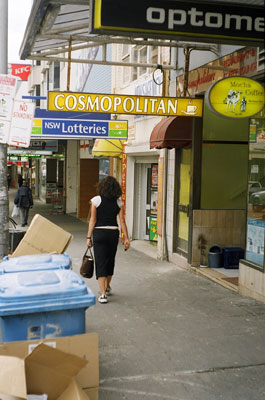 Bondi junction!