Manufactured 1969-71 this model is the from the second generation of Canon's very popular Canonet QL range. This one doesn't have a battery check button and light, which I've read is normally on this model??

Fun with this camera!
This one had a few issues to fix, the meter was dead, filter ring is dented, front lens element is hazy especially at edges, and the film door light seals are gummy.
Repairs so far.
Fix light meter, After removing top and bottom of camera peeling off the leatherette and knocking off the QL plate, this exposes four screws holding on the lens assembly, after removal of these the assembly simply lifts off bringing hot shoe contacts with it, watch out for the rangefinder parallax corrector plate which spring downwards to contact the focusing ring. Looking inside the case you'll see where the battery wire goes to, its a weird contact screwed to the case which contacts the circuit board on the back of the lens assembly in your hand. This wire was the problem it was broken inside so I replaced it. The battery compartment was not in the best shape so cleaned it up and glued, insulated and added a foam spacer against compartment and camera wall. Meter works now hurray!
I've ran a test roll and everything seems to be working fine except the lens is still hazy so photos show flaring and are not very contrasty. Anyone got any lens cleaning tips?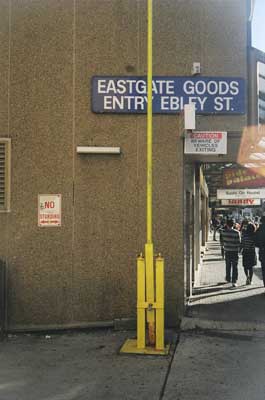 Carpark barrier!
Camera Specs:
Lens: 40mm f1.7, 6 element in 4 component construction.
Shutter: Copal, Speeds 1/4 - 1/500 & B.
Exposure meter: Highly sensitive CdS exposure meter. powered by mercury battery. (which are unavailable now I use alkaline 1.5v)
EE mechanism: (EE meaning Electronic Eye exposure meter) Shutter speed priority exposure or full manual control.
Film speed index: ASA 25-800.
Viewfinder: Bright viewfinder. Double image superimposing system, coupled rangefinder with auto parallax correction marks.
Flash Synchronization: Hot shoe and PC socket.
Self timer: None.
Film Loading: Canon's QL (quick loading) mechanism.
Film Winding: Single operation 120 degree winding lever type. Built-in film transport indicator.
Size: 120mm x 75mm x 60mm.
Weight: 620 grams.